| | |
| --- | --- |
| DOTNETNUKE CMS DEVELOPMENT | |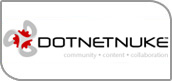 DotNetNuke® is a free, Open Source Framework ideal for creating Enterprise Web Applications.
DotNetNuke is an open-source Web Application Framework that is built on Microsoft ASP.NET (VB.NET) platform and is easily installed and hosted. It is most suitable for creating and deploying projects such as commercial websites, corporate intranets and extranets, online publishing portals, and custom vertical applications.
The key features of DotNetNuke are
» Open Source: It is open-source that provides flexible application framework.
» Multiple Portal Management: It can manage multiple portals or sites by single one install.
» Variety of features: You can give versatile look and feel to your website in just few minutes.
» Complete customization: It provides complete customization to meet your needs. Site customization and functionality are limitless.
» Standard Modules: It comes with pre-developed 20 modules like document management, events, RSS feed, forums, contacts, links, FAQ's etc to add content.
» Scalable & Extensible: DotNetNuke enables to create the most complex content management systems entirely with its built-in features, allow administrators to work effectively with add-ons, third party assemblies, and custom tools.
» Security: Gives specific security settings of your website.
» Easier Content Management: Manage content most easily.
» Strong community support: Over 350000 registered users with core dedicated team to support
» Drag & Drop Functionality: Drag and drop module in website for easier working.
» Multi Language Changeover Feature: Multi-language localization feature to easily translate projects into different language.

DotNetNuke comes with 20 standard modules; these have been chosen to provide most of the functions required. Some of these are:
» Account Login - for allowing users to log in to your application
» Announcements - for publishing announcements, news, etc.
» Banners - for displaying banner advertising
» Contacts - for displaying names, e-mail address, phone numbers, etc.
» Discussions - for creating a simple threaded discussion
» Documents - for uploading and managing documents
» Events - for announcing events
» FAQ's - for Frequently Asked Questions
» Feedback - for providing feedback
» iFrame - for introducing other pages and content using iFrames
» Image - for displaying an image
» Links - for displaying a list of links
» News feeds (RSS) - for displaying news from an RSS feed
» Text/HTML - for displaying your own custom text or HTML
» User Account - for displaying and editing user account details
» User Defined Table - for creating a custom HTML table of information
» XML/XSL - for displaying XML data

Our DotNetNuke services include
Touch Info Media provides you variety of services related with Dot NetNuke. Following are our areas of expertise in DotNetNuke.
» DotNetNuke skin and container design (DNN skin and container)
» DotNetNuke CMS (Content Management System)
» Static website conversion into DotNetNuke
» DotNetNuke Installation
» DotNetNuke website design
» DotNetNuke redesign
» DotNetNuke modules development
» DotNetNuke skin and container design for your existing website
» DotNetNuke custom development
» DotNetNuke customization website