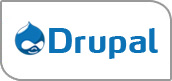 Drupal is an open-source platform and content management system for building dynamic websites offering a broad range of features. Wide range of successful companies relies on Touch Info Media 's content management experience to increase productivity, improve operational efficiency and reduce risk. Touch Info Media works closely with the enterprises to plan, prepare, and coordinate results.
The key features of using Drupal are
» Ease-of-use and large selection of modules & themes
» Excellent categorization of content through taxonomy system
» Nice input filter system that lets you choose the format style (e.g. HTML or Textile) for each entry
» Clean URLs through apache mod_rewrite as well as Drupal URL aliasing system
» Built-in revision system so I can handle different versions, although you can't mark one revision published while working on another.
» Huge developer community tha''s also fairly software savvy
» Written in PHP, and we have the set of developers who are most efficient with that scripting language.
Click here to know more about Drupal open source CMS
Our Drupal services include
» Custom Design, template and theme development
» Design integration
» Custom modules development
» Module installation
» Blocks Development
» Client specific custom modification and customization
» Drupal web sites Maintenance