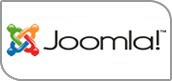 Joomla! is an award-winning Content Management System (CMS). It is an open source solution that can be used readily and freely available to everybody. It can be used for developing various feature based application like - E-commerce/online shopping cart, Showcase/catalogue, Estate agency Property rental, Recruitment/job portal, Showcase cars, Directory, Project management, Forum/message boards, Guest book, News, Comments and reviews, Picture/photo gallery ,Events calendar, Helpdesk/support desk, Extended user level access, Newsletter with subscribe and unsubscribe, Chat room, Google map Newsflash scrolling and more.
Joomla! in Action
Joomla! is used all over the world to power everything from simple, personal homepages to complex corporate web applications. It is modular and you have the options to upgrade as per needs. Some of our clients used this software for different purposes like:
» Corporate websites or portals
» Online commerce
» Small business websites
» Non-profit and organizational websites
» Government applications
» Corporate intranets and extranets
» School and church websites
» Personal or family homepages
» Community-based portals
» Magazines and newspapers
» Unlimited possibilities are there...
Joomla! can be used to easily manage every aspect of your website, from adding content and images to updating a product catalog or taking online reservations.
Click here to know more about Joomla open source CMS.
Our Joomla services include
» Joomla Custom Design Templates
» Joomla Custom Modules Development
» Joomla Custom Components Development
» Joomla Design Integration
» Joomla Module Installation
» Joomla Custom Modification and Customization
» Maintenance Work for Joomla Portals
Extras and add-ons
Additional content pages from US$20.00