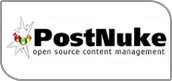 PostNuke is a Community, Content, Collaborative management system, a C3MS. It's your electronic toolbox, a set of tools allowing you to build a dynamically generated website that five years ago would have cost hundreds of thousands of dollars to launch. PN is unique because it not only provides you with a wonderful set of tools, but it provides you with a community of users. PN is a community that responds to you when you need help or information. PN is many things to many people; it's a chameleon of sorts, taking on the demands of what you want to accomplish as a webmaster, publisher, or community developer, with ease. So in the end, it is a set of tools you can use to extend your business, your hobbies, and your life online.
Click here to know more about PostNuke
Our PostNuke services include
» Design Templates and Skins
» Design Integration
» Installation on live server or with existing website
» Client specific custom modification and Customization.