| | |
| --- | --- |
| SEARCH ENGINE OPTIMIZATION (SEO) | |
Highlights of Search Engine Optimization
By optimizing and achieving top placement, you will benefit the following:
» Higher Visibility of your Website on the Internet
» Higher Search Engine Ranking or Positioning of your Website in the Search Engines
» Increase Highly Targeted Traffic
» Increase Number of Leads
» Increase Number of Customers
» Increase Sales
Two type of Search Engine Listing:
SEO
SEM
Name
Search Engine Optimization
Search Engine Marketing
Listing
Organic Listing
Paid Listing
How to do that?
The process of designing and updating a website such that it is likely to show up in organic listings for relevant user queries.
Off-site or paid marketing activities
» Google Adwords.
» Exchanging links with other sites
» Buying links from other sites or directories
» Paid inclusion in smaller search engines.
Advantages
» Low cost: no money to search engines
» Users 80% more likely to click
» High positions can last long into future
» Perceived as a quality endorsement

» Listing is guaranteed and instant
» Flexible, allows for trial-and-error
» Search Engine provides reporting
» Geo-targeted
Disadvantages
» Time required before results appear
» Difficult for highly competitive phrases
» No guarantees
» Can't fully control text that appears in results


»Costly: both initial & ongoing costs
»Users 80% less likely to click
»Requires close (typically daily) management
»Competitors with deeper pockets can outbid you
Position of Organic listing and paid listing in google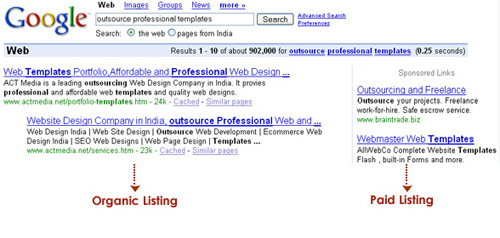 A Search Engine Optimization would consist of the following 3 phases:
The most important part of the Search Engine Optimization is identifying the proper keyword phrases to target. We will have a brainstorming session where we gather keyword phrases that you think your customers are looking for. Our team will take this information and determine the total number of monthly searches for a particular phrase and research the competition to see if it is a worthwhile phrase to target. We will share our findings with you and work to determine a final list of keywords.
Once we have decided on the appropriate keyword phrases to target, we will begin the optimization of the site. During this important stage our team will work closely with you to create perfectly optimized content that will perform well in the search engines.
Once the optimization is complete our team will manually submit ALL of the pages of your site to the most popular search engines. We will not use the automated "Submit your site to 10,000 Search Engines" programs that tend to get your site banned for spamming.